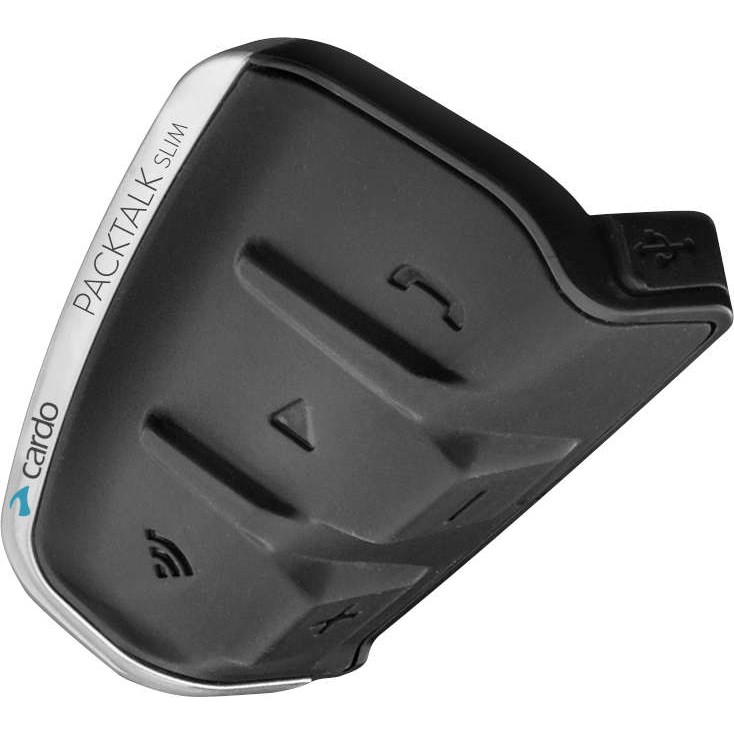 click on image for larger view
PACKTALK SLIM Communication System
Sorry...this product is no longer available.
Product Description
The worlds slimmest, premium communication system, the next generation of the worlds best motorcycle communication system
Plain and simple
Keep your eyes on the road and your hands on the bars, just say Hey Cardo, and your Packtalk Slim will do the rest.
Up to 15 riders, great from 2 upwards, stay connected whether you are riding in duo, a group of four or a pack of fifteen
Enjoy the highest quality, long distance reception a motorcycle communication system can offer
Universal connectivity, Connect your unit to any Bluetooth headset of any substantial brand
With both DMC and Bluetooth technologies on board youll never be left behind
All the music you ever wanted streamed directly from your smartphone
Control, share and experience your favorite tune on the road
Explosive sound, powerful, 40mm-wide, high-definition speakers and specially-tuned audio processor deliver a sound experience like no other
Answer calls, make calls and control your mobile devices with a touch of a finger or the sound of your voice. No one will ever guess you are talking from your ride
Longest real range up to 1600 meters (1Mi) in perfect condition, but will get you close to 1000 meters in real life conditions, About twice as much as the competition
Built-in FM Radio with RDS for automatic selection of the strongest signal - whether you are in town, or in the middle of nowhere
Merge any Bluetooth intercom with your mesh group conversation
Switch unit from DMC to Bluetooth mode to act as any high-end Bluetooth system
Automatically adjusts your sound volume based on the outside ambient noise
Enjoy Vivaldi at full throttle
Dont get deaf by AC/DC waiting for the lights turn
Smart audio mixing, sophisticated algorithms make sure that all your audio sources - FM radio, music, mobile calls and intercom work together in parallel
Audio sharing, share your play list or favorite radio station with your passenger
Enjoy the vibe together
Get full control through one simple and intuitive app, but dont take our word for it, just download Cardo Connect and find out for yourself
Charge while you ride. Forgot to charge your unit? Running out of battery?
Just plug your unit to a battery pack or your 12V charger and turn your unit on
It will charge while you ride
13 Hours talk time, long lasting battery ensures your unit is available when you need it
Call to intercom lets you merge any incoming phone call into the intercom conversation
With call to intercom no friend is ever out of range
Private chat, Tired of the chatter? Choose just one member of the group and enjoy an intimate conversation