RANGER PS-4 PLUS SYNTHETIC ENGINE OIL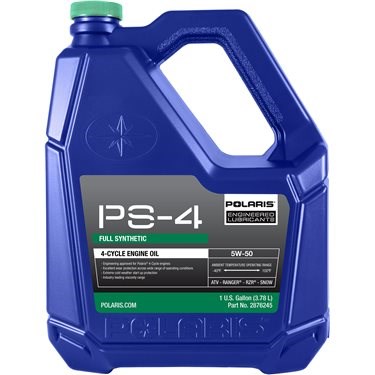 click on image for larger view
RANGER PS-4 PLUS SYNTHETIC ENGINE OIL
Product Description
Polaris PS-4 Plus full synthetic 4-cycle engine oil is designed specifically for and recommended for all 4-stroke Polaris ATVs and RANGER vehicles. It provides maximum engine protection and ultimate performance at extreme operating temperatures, hot or cold, plus improved cold temperature starting.
With millions of miles of testing and thousands of dyno hours, our oils are proven and tested before they ever reach the shelf in your garage, for the dependability and peace of mind that only Polaris lubricants deliver. Maximum engine protection in cold and hot conditions.
Easy starting in extreme cold Extra rust and corrosion protection Extends gear and clutch life. Designed specifically for Polaris 4-cycle engines.