RANGER PS-4 OIL CHANGE KIT 2qt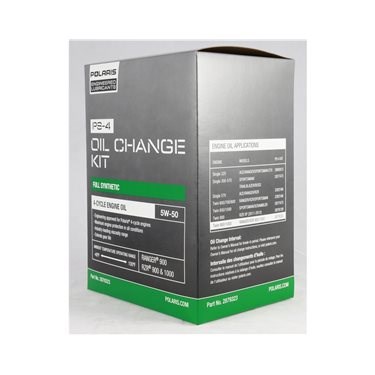 click on image for larger view
RANGER PS-4 OIL CHANGE KIT 2qt
Product Description
Enhanced lubricity protects internal engine parts. PS-4 oil offers outstanding film strength that coats and protects, to drastically reduce sliding friction, providing optimum hydrodynamic lubrication.
Polaris 4-cycle engines generate high horsepower from small displacement platforms, resulting in high temperature strains on piston, rings, crankshaft, bearings and other internal engine components.
PS-4 PLUS' synthetic base stocks and optimized additive chemistries assure the best lubricity, to protect and prolong, the life of these internal components.
This convenient oil change kit includes everything you need to change your oil. Kit includes 2 quarts of PS-4 and 1 oil filter. Fits the following models:
Hawkeye 300, 400
Magnum 325, 330, 425
RANGER® 400, 500
Sportsman® 300, 400, 450, 500
Sportsman® XP 550 and Twin 850
Trail Blazer/Boss 325, 330
Kit Includes:
2 quarts of PS-4
Oil Filter, PN 2520799
| | |
| --- | --- |
| Recommended With | RANGER® / SPORTSMAN® 300-500, SPORTSMAN® /SCRAMBLER® 500/850/1000 |
| Available In | 4 Kits per Case |
| Container Size | PS-4 Kit |
| Subbed From | 28,767,382,873,554 |